Water Damage Restoration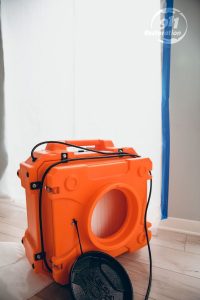 Water damage is always an emergency. Whether it's rainwater, black water, or flooding from a pipe burst, water has the power to destroy your property. But with 911 Restoration on your side, you don't have to worry about living with rotted drywall or mold contamination. Our water damage experts in Redding respond immediately and make your property new again.
We guarantee an arrival time of 45 minutes or less. That goes for any hour of the day or night, even on weekends and holidays. Our IICRC-certified flood cleanup technicians are the best in the business. They handle everything from the initial water cleanup to finishing touches on new roofing or carpet replacements. They even manage mold remediation.
The water damage restoration crew has seen their fair share of flooded basements and devastated properties in Redding, Paradise, and the surrounding areas. They understand exactly what you're going through and what it takes to provide peace of mind. From clear communication to exceptional service, they work with your best interests in mind.
911 Restoration also works with all insurance providers and offers a free insurance consultation. When it comes to pipe bursts and flooded basements, the flood cleanup process is rarely simple. You may require water damage restoration services in Redding, carpet removal, mold inspection, or mold decontamination. You may not know which of these services your provider covers. We clarify your coverage for you. We even help with loss itemization and file a claim on your behalf.
If you need flood cleanup or mold remediation in Redding, Paradise, or the surrounding area, you know who to call. Contact us at 530-255-2155 911 Restoration of Redding now.
Redding's Best Water Damage Company
911 Restoration of Redding is a locally owned and operated company backed by the resources of a nationwide business. As a national company, 911 Restoration is known coast-to-coast for providing expert, customer-centered service. We work hard to maintain that same reputation in the Redding area.
From sewage backups to flooded basements, our water damage restoration technicians see a water disaster as an opportunity for a Fresh Start. They provide a free visual inspection for property owners before beginning the flood cleanup process. The crew explains what it will take to make your home or business brand new again.
Our water damage restoration technicians have completed rigorous training in all aspects of property repair. Beyond basic flood cleanup, they conduct structural testing to make sure your property is still sound after water damage. These professionals come equipped to handle any necessary repairs. This could include drywall replacement, roof repair… whatever it takes.
They also perform a thorough mold inspection. Flooded basements are especially vulnerable to mold development. Without immediate discovery and prompt mold removal, fungus eats away at the materials that hold your property together. Mold remediation is also important for avoiding mycotoxins and other harmful particles in the air you breathe. Our mold removal experts take these threats seriously. Their mold inspection is extensive and detailed, and they handle mold remediation safely and effectively. call 911 Restoration of Redding at our number at 530-255-2155
If you need mold removal or flood cleanup in Redding, Paradise, or beyond, the best choice is clear. Choose 911 Restoration of Redding and get ready for a Fresh Start.
24-Hour Emergency Water Damage Restoration in Redding and Beyond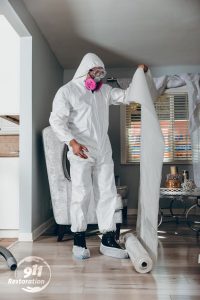 When a pipe bursts in the middle of the night, who can you turn to? Who will do sewage cleanup at noon on a holiday? Who can you trust for an immediate response to flooded basements?
The answer is 911 Restoration of Redding. Our water damage restoration technicians aren't just fast, they're committed. They're at your door in 45 minutes or less every single time. And they come ready to provide any emergency service necessary, including:
Boarding up
Emergency roof repair
Storm repair
Leak detection and repair
Water removal
Sewage extraction
And much more
They pack out and store items that could be at risk of damage during flood cleanup. And once the water is gone, they bring in professional fans for structural drying and dehumidifying.
In every water disaster, our goal is to minimize your damage so you can move on with your life without additional expenses. This is why we respond to pipe bursts, flooded basements, and other incidents with such urgency. The faster we get moisture off your property, the less likely you are to incur damages such as rotting and warping.
We also hope to avoid mold contamination. Our water damage restoration workers are certified in mold remediation. If you do wind up with a mold problem, you can count on us for a 911 mold restoration and mold removal. Regardless, our goal is to avoid that problem in the first place.
At 911 Restoration of Redding, you're not just a customer. You're a neighbor who deserves fast solutions and genuine care. Count on us for expert flood cleanup, mold removal, and peace of mind. Call us at 530-255-2155 and see how we can help you.
Serving the communities of Anderson, Bella Vista, Cottonwood, Redding, West Tehama County and surrounding area.