Fire Damage Restoration in Redding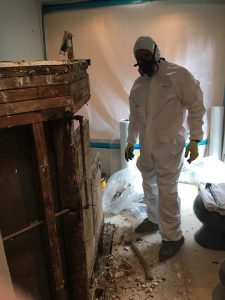 We know a property fire feels like the end of the world. A puffback feels like an impossible cleanup job. Even minor smoke contamination feels like it's forever. Rest assured that you can call 911 Restoration in all these disasters and we'll make your property as good as new.
Our IICRC certified fire damage restoration technicians are driven by the Fresh Start philosophy. They believe that every seemingly hopeless situation is an opportunity to rebuild, better than ever. When they provide fire restoration, smoke removal, or puffback cleanup, they don't rest until your property is cleaner and stronger than before.
We work with both residential and commercial properties throughout the Redding area. Our fire cleanup crew is highly trained in all aspects of smoke damage and fire damage restoration in Redding. They clean every trace of soot, remove odors permanently, and rebuild your property. They are prepared to tend to the unique needs of your home or business. It doesn't matter if you own a condo, a warehouse, or a spa. They take care of you.
At 911 Restoration, we champion your peace of mind above all else. Our technicians work hard to keep costs low and keep the lines of communication open, starting with a free fire damage assessment. Before work begins, they explain what to expect during the fire cleanup or smoke damage restoration in Redding. They welcome your questions, address your concerns, and even file an insurance claim for you.
You're in a tough position. But you're not in it alone. For puffback cleanup or fire damage restoration in Redding and beyond, call 911 Restoration. Call us at 530-255-2155 and allow us to provide you a free visual inspection.
Full-Service Fire Cleanup and Smoke Restoration in Redding Area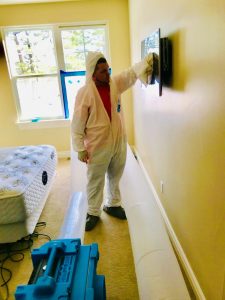 What can you expect from the fire damage restoration and puffback cleanup crew at 911 Restoration?
In a word: everything.
Our technicians handle everything it takes to get you from today's disaster to tomorrow's Fresh Start. First, they provide a free fire damage assessment so they can create an intelligent strategy for rebuilding your property. Then, they pack out and store undamaged belongings to ensure those items stay safe during restoration.
Restoration often begins with fire cleanup and smoke removal. Our experts use sodablasting to remove soot, ash, and smoke from the surfaces of your home or business. They also scrub down your dishes and clean your furniture. This deep cleaning often accomplishes odor removal, as the technicians wash away the particles that carry odor. However, some particles settle into porous surfaces. In that instance, the smoke restoration crew uses sealing techniques to eliminate odor. Call us at 530-255-2155 and learn how we can help
If you've had a fire, you may also have a mold issue. If the fire hoses left a flood on your property, our fire cleanup crew extracts the water. They also dry the structure, repair any resulting damages, and inspect for mold.
After they've completed soot, water, and smoke restoration, the crew tests the structure for damage. They then repair and restore your entire property. You never have to call another contractor to make your home or business new again. Our experts take care of everything… roofing, drywall, floorboards, cabinets, you name it.
There's no reason today's nightmare should hang over your head forever. If you need puffback cleanup or fire cleanup in Redding, Paradise, or beyond, call us today. We'll put this disaster firmly in the past.
Free Insurance Consultation for Fire and Smoke Damage Restoration
When you've been through a property fire, you need more than smoke removal and fire cleanup. You need guidance and support. You have a lot of questions, and you need answers.
Please consider 911 Restoration of Redding your fire information center. Our fire and smoke damage experts are always here to provide answers for all your questions, big and small.
One question we get a lot regards insurance. Do we take your insurance? Does your provider cover all the services you require? How much will you have to pay for fire damage restoration?
First of all, we do take your insurance. We work with all providers.
As for the rest of your questions, we can share those answers during our free insurance consultation. We take a look at your policy and explain which services your provider pays for, from smoke restoration to mold removal. Then, a staff member assists you with inventory and loss itemization. We file your claim for you and bill your provider directly.
If you need fire or smoke damage restoration, you've got enough to worry about. Let us handle the tedium of insurance claims. In fact, let us take every last worry away. Call us at 530-255-2155 911 Restoration of Redding and look forward to your Fresh Start.