Water Damage in Bella Vista
Various degrees of water damage can invade your property in several ways. The severity of damage can range from a leaky pipe under the sink to a full-blown property flood. Regardless of your situation, you can depend on 911 Restoration of Redding to provide around-the-clock water damage restoration in Bella Vista. Our office is open 24/7/365, so you can reach out the moment you need help. We guarantee to arrive within 45 minutes of receiving your call, ready to begin same-day services. Our technicians will start the water removal process by providing the property owner with a free inspection and estimate.


When you hire 911 Restoration of Redding, you can expect to receive help from a team of highly trained professionals. We hire IICRC certified technicians that have reached the highest standards in the industry.
Along with working with experienced, qualified experts, our water damage restoration company is licensed, bonded, and insured. This insurance status ensures your protection under all circumstances.
We want you to feel safe and secure throughout the water damage repair in Bella Vista. By providing top-notch restoration and customer service, our staff will put your mind at ease.
Along with facilitating the leak and flooding cleanup, we will assist you with the financial side of the restoration. Our staff members will file your insurance claim for you and directly bill your provider.
When you need emergency flood damage restoration in Bella Vista, call the water damage company that you can trust to stay by your side throughout your entire recovery. Call 911 Restoration of Redding today!
Understanding How to Deal with the Impact of a Flash Flood
Home flooding incidents are one of the most common hazards in the United States, and Bella Vista is no different. The effects of a flood can be acute, only impacting your property, or very large, affecting entire communities.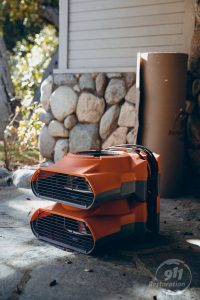 It is important to remember that not all floods are alike. Flash floods are precisely as they sound- they develop quickly, usually within a matter of minutes, and occur without warning.
Flash floods are not only dangerous because of the amount of water that can pour into your home or business. These floods carry mud, rocks, and other heavy debris that can create significant property and flood damage.
Fortunately, there are steps you can take to minimize the flood damage caused by these disasters. 
You can install check valves in the sewer traps of your property to stop the floodwater from backing up into the drains of your home or business. 

Place sump pumps in the areas of the property that are most prone to flood damage.

Seal your doors, windows, and other openings in your foundation with waterproofing compounds to prevent water seepage.
By staying proactive before the rainy season begins, you can reduce your chances of incurring substantial water damage issues. However, even if you take all the necessary precautions, you may still find yourself dealing with property damage after a flash flood.
911 Restoration of Redding understands the cruciality of reacting to business and home flooding disasters quickly. We are ready around-the-clock to provide emergency water damage restoration services in Bella Vista.

So, call the team you can rely on to be there for you when you discover flood damage in Bella Vista. We will give you the peace of mind you need to recover from even the most severe flooding disaster.
Proving our Commitment to Customer Service Day in and Day Out
While dealing with the effects of water damage are challenging, these issues do not have to derail your everyday life. 911 Restoration of Redding will take over everything as soon as we arrive, allowing you to focus on the things that really matter.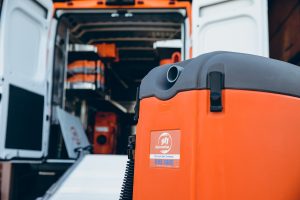 We will dispatch technicians to your property as soon as you call our office in need of water damage restoration services in Bella Vista. Day or night, we stick to our 45-minute arrival guarantee, so you can count on our repair techs to be there when you're in the thick of it.
Our fast response time is just a part of our ongoing dedication to customer service. Keeping your feeling cared for throughout the water remediation process is always our primary goal.

We realize you will have questions and concerns not only about the water damage cleanup but the financial logistics as well. 911 Restoration of Redding hopes to ease your mind with our affordably priced services and commitment to accepting all types of insurance.
If you need assistance in understanding your insurance policy, we offer free insurance consultations. Our professionals will make sure you fluently understand your plan so you can receive the coverage you deserve.
The best way to obtain maximum coverage is by providing your insurance company with a detailed list of your losses. So, along with handling the entire submissions process, our technicians will also help you take inventory of the onsite damages.
When you work with 911 Restoration of Redding, you will receive help from a team that cares and understands what you need from a water damage restoration company. Call our technicians the moment you need help, and we will show you that a Fresh Start is possible today!
Servicing the areas of Anderson, Bella Vista, Cottonwood, Douglas City, French Gulch, Igo, Millville, Mineral, Oak Run, Palo Cedro, Paynes Creek, Platina, Redding, Shingletown, West Tehama County, Whitmore, and the surrounding areas.