Mold Removal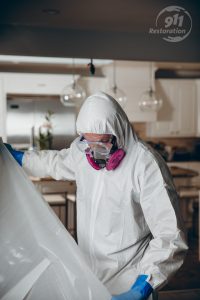 Think you have a mold infestation? Don't wait until it's too late. Call 911 Restoration of Redding for a mold inspection and expert mold decontamination.
When there's a fungus in your home or business, both your property and your health are at risk. Mold eats away at the structure and surfaces that make up your property. It releases harmful particles into the air, creating a wide range of health threats for you, your colleagues, and your family. Mold contamination is a serious problem, and at 911 Restoration, we take your infestation as seriously as you do.
As a locally owned and operated company, we consider you a neighbor. We see your property as an important part of our beautiful community. So we do more than clean mold. We fully restore damaged surfaces and dry and dehumidify your home or business so mold stays away.
Every member of our mold remediation specialists in Redding is IICRC certified and extensively trained. They communicate clearly in all they do, starting with a free visual inspection for property owners. Every step of the way, you'll understand exactly what your mold removal techs are doing and why.
Above all, our goal is to turn mold contamination into an opportunity for a new beginning. We know that when property owners come to us for mold removal, they're worried about the health of a property they've worked so hard to care for. We promise to leave you with a home or business that's in even better shape than before mold crept in.
For the very best mold inspection and mold removal service in Redding, Paradise, and beyond, call 911 Restoration. call 911 Restoration of Redding at our number 530-255-2155
Black Mold Remediation in Redding and Surrounding Areas
Black mold is a common concern for many property owners. This variety of mold is toxigenic, which means it releases hazardous mycotoxins. These particles may be breathed in by humans and pets. When they collect in your body, they can lead to a variety of health problems, ranging from allergies to heart issues.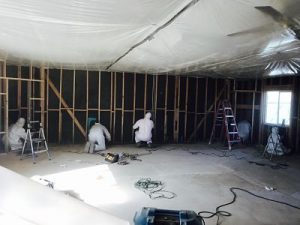 This is why it's so important to seek out a mold inspection as soon as you suspect an infestation. It's also why you should choose your mold remediation contractor carefully. Mold decontamination can be dangerous if it isn't handled by a certified professional. The process of mold removal disrupts the colony, forcing the mold to release extra mycotoxins. Our IICRC-certified mold cleanup experts know how to manage this process with the utmost caution. They come equipped with protective gear and proper tools for safe removal. so contact us today at 530-255-2155
While black mold is the most dangerous type of mold, it is not the only fungus that requires a fast response. Most varieties of mold are at least allergenic or toxigenic. If you notice a growth in your home or business, Call for a 911 mold restoration inspection right away.
Mold doesn't always grow in plain sight. In fact, fungus thrives most in dark, damp spaces. You could have mold in your walls or ceiling without realizing it. Take any sign of a hidden infestation seriously, as a delay in mold cleanup could lead to a much larger and far more destructive infestation down the road. Signs include:
If you experience any of the above, contact us at 530-255-2155 911 Restoration of Redding for a mold inspection.
Will Carpet Steaming Remove Mold?
Most property owners hope to tackle mold cleanup themselves. We get it. We don't blame you. Who wouldn't want to save a few bucks?
But trust us: do-it-yourself mold decontamination costs so much more in the long run.
For one thing, the home remedies you find online aren't really effective for mold removal. Household cleaners rarely get the job done. And carpet steaming might appear to remove mold from carpet, but steam won't kill the spores mold leaves behind. In fact, steam provides a cozy, damp place for mold spores to start a new colony.
For another thing, effective, lasting mold remediation is a multi-step process. First, you need a certified mold inspection crew to examine your property for all growth—not just the patch you know about. Second, our mold remediation technicians use professional tools to kill mold and eliminate your infestation completely. Then, they dry and dehumidify the structure. Without this step, you're left with a damp surface ready and waiting for new mold spores to land again. Finally, our mold cleanup staff repairs and replaces contaminated materials, so your property feels brand new.
If those reasons aren't enough to consider hiring a certified mold specialist, consider this:
When you scrub at fungus, you put yourself in direct contact with the dangerous particles mold releases. For the sake of your own health, you should always keep a safe distance from an unidentified colony. Then call us for a mold inspection and professional mold decontamination. Call us at 530-255-2155 and allow us to provide you a free visual inspection.
If you need mold damage restoration in Redding or the surrounding area, don't take your chances. Call the experts at 911 Restoration of Redding.