Water Damage in Anderson
Between seasonal precipitation and general wear and tear, it is crucial to prepare your property in Anderson from water damage year-round. Sometimes water damage is unavoidable, and when those moments arrive, you can count on 911 Restoration of Redding. Our office is open 24/7/365 to help you the moment a disaster occurs. Day or night, our technicians will arrive within 45 minutes of receiving your call. We administer same-day services for leak and flood damage and quickly provide mold removal when needed. Our technicians start all water damage restoration jobs by giving the property owner a free inspection and estimate.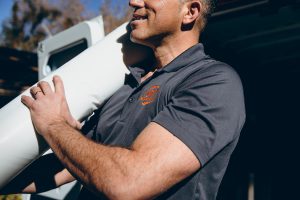 911 Restoration of Redding's primary concern is keeping you safe and secure during the water remediation process. Our staff members will do everything we can to make sure you receive high-quality water damage cleanup.
We employ experienced, trained professionals that are IICRC certified to conduct residential and commercial restoration services. You can also feel completely protected when you hire 911 Restoration, knowing our entire company is licensed, bonded, and insured.
While we are a nationwide water damage restoration company, each branch is locally owned and operated by a team that understands how regional weather patterns impact homes and businesses in Anderson.
Our technicians will execute a water restoration strategy specifically designed to mitigate the issues impacting your property. From ceiling leaks to property floods, we will make all the repairs needed to get your property looking better than new.
So, call 911 Restoration of Redding the moment you need water damage and mold removal services. Our technicians will show you how they can turn a disaster into a Fresh Start today!
Business and Home Water Damage Restoration From Experienced Professionals
There are many ways water can invade your property, with pipe bursts being one of the leading causes of water damage inside homes and businesses.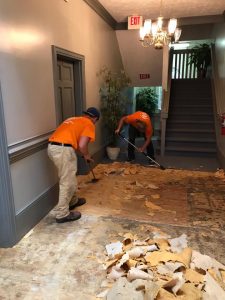 Various factors go into creating pipe bursts and plumbing leaks. Heavy rainfall can flood sewers, cold weather can crack pipes, and older plumbing systems can begin to fail.
The most important factor to consider when dealing with pipe bursts is the speed at which such an incident can occur. In mere hours, a broke pipe can create a home flooding issue, causing substantial flood damage and mold growth.
Our technicians understand the importance of emergency water damage restoration. You can consistently rely on us to conduct prompt water removal and drying services after a burst pipe.
Before we even arrive, you can quickly contain the flooding by shutting off the main water line on the property. Once our technicians are onsite, we will mitigate the water damage and make all the necessary repairs.
Whether you own a home or business, you can have complete confidence in our ability to restore your property from even the most severe flood damage. Call 911 Restoration of Redding when you experience a pipe burst in Anderson. We are here to give you the peace of mind you need to get through any water disaster.
Successful Water Remediation Involves Exceptional Customer Service
While waking up to a ceiling leak or flood damage in Anderson is not the best feeling, knowing 911 Restoration of Redding is only a phone call away is reassuring.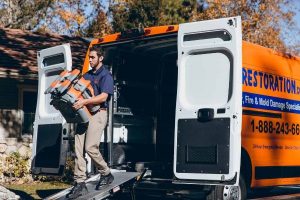 The moment you find yourself needing water damage restoration or mold removal, you can reach out confidently, knowing that someone will help you. Our office is open around the clock, where agents are waiting to take your call.
We will dispatch our technicians to your property right away because we never make you wait for assistance. If there are actions you can take to prepare the site before our arrival, we will walk you through those steps.
Our staff never wants you to feel as if you are alone in this process. We will help you with every aspect of the water remediation, including the financial logistics.
911 Restoration of Redding works with all types of insurance and consistently offers affordably priced restoration services. We will provide you with a free insurance consultation to ensure you fluently understand your policy.
The best way to receive optimal coverage is to submit as much detailed information as possible regarding your losses. Our technicians will help you take inventory of the damage to both your property and belongings so you can submit an itemized list to your insurance company.
You can count on 911 Restoration of Redding to answer all your questions, whether you have concerns about insurance, pipe bursts, water removal, or restoration in general. So, call us today, and we will show you that a Fresh Start is possible!
Servicing the areas of Anderson, Bella Vista, Cottonwood, Douglas City, French Gulch, Igo, Millville, Mineral, Oak Run, Palo Cedro, Paynes Creek, Platina, Redding, Shingletown, West Tehama County, Whitmore, and the surrounding areas.