Water Damage in West Tehama County
Between the wet weather in West Tehama County and general wear and tear, water damage can make its way on your property before you even know it. When moisture gets inside your home or business, it needs to be dealt with immediately to prevent subsequent issues, such as water damage to wooden structures and mold growth. 911 Restoration of Redding understands the importance of reacting quickly to these situations. Our technicians are available 24/7/365 to conduct water damage restoration in West Tehama County. Whether you're dealing with flood damage or rainwater leaks, our repair techs will arrive within 45 minutes of receiving your call.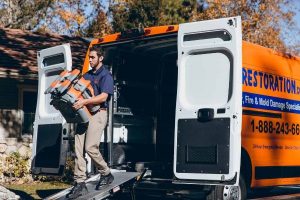 You can have total confidence in our ability to recover your residential or commercial property. 911 Restoration of Redding employs IICRC certified professionals that are backed by the Institute of Inspection, Cleaning, and Restoration.
Not only do we work with experienced, certified water damage specialists, but our company is licensed, bonded, and insured for your protection.
We train our water removal techs to restore both residential and commercial properties from all kinds of water damage, including mold infestations. From our years in the industry, we are confident that there is no situation we can't handle.
As a locally owned and operated restoration company, our technicians expertly understand how the regional climate impacts homes and businesses in West Tehama County.
Our staff members will orchestrate the entire water damage restoration, as well as assist you with the insurance proceedings. 911 Restoration provides free insurance consultations to ensure you understand your policy and coverage. We will also file your claim for you and directly bill your provider, so you don't have to concern yourself with the insurance logistics.
So, call the team that cares and understands what you need from a water damage company. 911 Restoration of Redding will show you that a Fresh Start is possible today!
Combating Rain Water Damage and Roof Problems
West Tehama County experiences most of its rainfall during the winter months, with November through March having the most precipitation.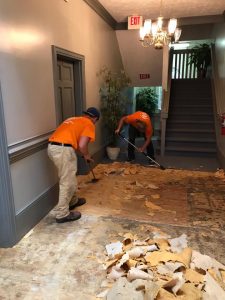 Rain has the potential to be a destructive force, even at minimal levels. The water damage it creates can significantly impact your property and ruin your belongings inside.
The roof is the first line of defense during a rainstorm. Keeping it properly maintained is essential to preventing both water damage and mold growth. It is important to understand how to use the roofing components to protect your property effectively.
Gutters are designed to collect all the rain runoff and carry that water through the downspout. They need to be routinely checked and cleaned to ensure efficiency. Clogged gutters will inevitably lead to an overflow, which will cause water to leak in through the roof or spill over and seep into the foundation.
Downspouts require this same type of regular maintenance. They need to be free of debris to ensure proper drainage and prevent water backups. Your downspout should face away from the property and extend at least 5 feet to avoid leaks and flood damage.
By staying on top of your roof maintenance, you can drastically reduce the amount of potential leak and flood damage that annually impacts your home or business. However, sometimes situations are out of your control and you may need a professional to step in.
When you need assistance mitigating rainwater leaks or flood damage in West Tehama County, call 911 Restoration of Redding. Our technicians will provide emergency water damage restoration to ensure you make a full recovery from even the most severe storms.
Our Water Damage Restoration Company Also Specializes in Mold Removal
While wintertime in West Tehama County is the wettest season, spring and summer also experience occasional thunderstorms. The rainfall can create warm, damp conditions that enable mold to thrive.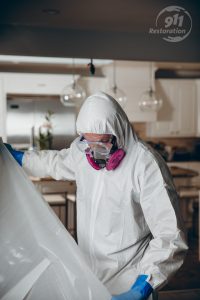 It only takes 24 hours for moisture to spark a mold infestation, making prompt water damage restoration crucial. Even so, it is not always possible to stop the rapidity of mold growth.
For these situations, you can depend on 911 Restoration of Redding to provide you with comprehensive mold removal services. Our technicians will thoroughly inspect the property to ensure we trace the entire infestation down to the source.
We will conduct water removal, drying, and dehumidifying services as part of the mold remediation strategy. Our specialists understand that thoroughly drying the area is vital to mold and mildew prevention, and we will work meticulously to remove all lingering moisture.
Your safety is always our primary concern. By creating a mold-free environment, we can help keep you safe from the health risks presented by a mold infestation.
Our technicians guarantee that your property will pass our mold clearance test, no matter how extensive the infestation might be. So, call 911 Restoration of Redding for local and inexpensive mold removal today!
Servicing the areas of Anderson, Bella Vista, Cottonwood, Douglas City, French Gulch, Igo, Millville, Mineral, Oak Run, Palo Cedro, Paynes Creek, Platina, Redding, Shingletown, West Tehama County, Whitmore, and the surrounding areas.