Water Damage in Cottonwood
Homes and businesses in Cottonwood are prone to feeling the impact of water damage in one way or another. This can mean experiencing a pipe burst, noticing a ceiling leak, or discovering past flood damage. Whatever the problem may be, 911 Restoration of Redding will help you recover. Our technicians are available 24/7/365 and guarantee to respond within 45 minutes of receiving your call. Day or night, you can depend on our staff to provide emergency water damage restoration on a moment's notice. Property owners will receive a free inspection and estimate so our repair techs can get to work right away.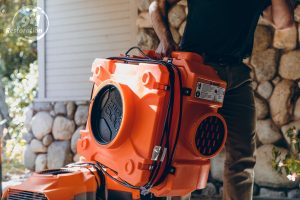 When dealing with water damage issues, same-day services are essential to the cleanup process. Moisture only creates more damage, the longer it stagnates.
Mold is the most common byproduct of leak and flood damage. It can appear within a couple of days of the incident and will continue to grow as long as it has a constant water source.
Fortunately, our technicians specialize in both water restoration and mold removal. 911 Restoration of Redding employs IICRC certified professionals that are experts in residential and commercial restoration for situations involving water damage and mold.
Not only do we work with experienced, certified specialists, but our entire restoration company is licensed, bonded, and insured for your protection. We want you to feel completely safe when our technicians are on the job.
While 911 Restoration of Redding is a nationwide restoration company, each branch is locally owned and operated. Our staff members are expertly aware of how regional weather patterns affect homes and businesses in the area.
So, when you need water damage restoration in Cottonwood, call 911 Restoration of Redding. We will give you the peace of mind you deserve today!
Understanding the Impact of Rain and Snow on Your Property
While precipitation appears throughout the year, wintertime in Cottonwood receives the most moisture. Both rain and snow impact the area during this season, making a significant impact on homes and businesses.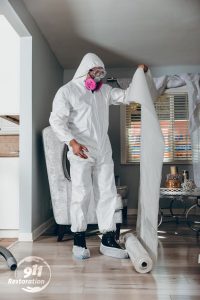 Heavy rainfall can create ceiling leaks, flood damage, pipe bursts, and other business and home flooding issues. Snow damage is less direct, but the impact is just as extensive. Snowmelt can leak inside cracks on your roof and foundation, often seeping into your attic and walls.
It is crucial to react quickly as soon as these problems appear. You need to contain the moisture to minimize water damage, structural issues, and prevent mold growth.
Our technicians understand when situations require emergency water damage restoration. We are always ready to provide immediate water removal, drying, and dehumidifying services.
We will repair ceilings with water damage and provide flooding cleanup. Our technicians will also address any mold in walls from water damage, which can occur even during the cold season.
As long as the indoor conditions are warm and damp, mold spores can grow within 24 hours of coming into contact with moisture. Since mold can grow at such a fast rate, our repair tech will check the property for signs of an infestation during the initial inspection.
You can trust 911 Restoration of Redding to provide full-service water damage restoration that takes care of every aspect of your situation, including mold removal. So, call the team you can count on and let our technicians give you peace of mind today!
A Water Damage Company That Guides You Through the Water Restoration
At 911 Restoration of Redding, we believe that customer service is essential to water damage restoration. Our staff will make sure we meet all your needs throughout the water and mold removal process.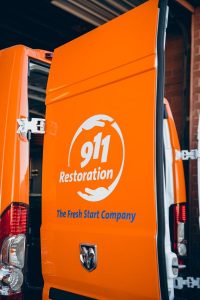 On top of coordinating the water remediation, we will help you navigate the logistics of the insurance filings. 911 Restoration offers free insurance consultations to ensure you fluently understand your policy and coverage.
We have worked with all types of insurance providers over the years and understand that providing them with detailed information is vital to getting you the coverage you deserve.
Our onsite technicians will help you gather this information by taking inventory of your property damage and create an itemized list of your losses to submit to your insurance company.
You can trust us to directly bill your provider and file your claim for you. We will do anything we can to make this time easier on you and your family, whether that means handling the claims procedures or simply answering questions about mold removal in Cottonwood.
So, call 911 Restoration of Redding when you need help from professionals that care and understand what you need from a water damage company. With our help, you will see how a situation such as a pipe burst or home flooding incident can turn into your Fresh Start!
Servicing the areas of Anderson, Bella Vista, Cottonwood, Douglas City, French Gulch, Igo, Millville, Mineral, Oak Run, Palo Cedro, Paynes Creek, Platina, Redding, Shingletown, West Tehama County, Whitmore, and the surrounding areas.