Top 10 Things to Do During a Fire at Home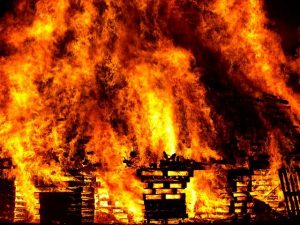 Disaster can strike unannounced, and a fire is such an event. Fire damage can be lethal to your health and your home, which is why it needs to be handled properly. While prevention is always better than cure, a fire can at times be unpreventable. This guide will help you with 10 things to do during a fire that will help contain the damage and safeguard precious lives.
1.   Use the Fire Extinguisher
Using the fire extinguisher is the first measure that you should take during a fire. If you hear the fire alarm, do not ignore it. If the fire isn't extensive, the fire extinguisher will contain the damage. You should leave the house immediately if the fire persists. Get a fire extinguisher installed right away as it can contain the damage or even resolve it completely.
2.   Inform Others
If you detect smoke coming from anywhere in the house, immediately raise the alarm and inform others. Do not just rely on smoke detectors and fire alarms, as they do tend to malfunction at times. If you spot fire spreading, call out to other inhabitants who may be in their room upstairs or in the bathroom. This way, you can all immediately vacate the premises and potentially save your family from wounds and injuries from the fire.
3.   Call 911
Most people make the mistake of putting out the fire themselves. While the first step is to use the fire extinguisher, do not use other methods like filling water buckets to contain the fire yourself. Instead, call a professional as a fire can be dangerous and a serious risk to your safety. The fire fighting department will put out the fire with the proper gear and equipment that a layman wouldn't have.
4.   Leave Everything Behind
During a fire, you never know what the end result would be. While you want to save as much as possible, do not roam around the house to fetch valuables during a fire. Instead, take whatever is with you at that time and leave the house immediately. You can always inform professional help where your valuables are so they can recover your belongings for you.
5.   Call Home Restoration after Fire Damage
Fire damage can be extensive. Not only can it ruin your furniture, but smoke can also seep into your walls and cause irremovable stains and an unbearable odor.  Water from putting out the fire can seep inside corners and crevices, causing water damage and consequently mold growth.
This is why it is advised that you immediately call home restoration after fire damage and home restoration after water damage. These professionals will ensure your property is revived to its original condition.
6.   Lie Down and Roll
If you're unfortunate to be caught inside the house during a fire, you incur the risk that your clothes catch fire as you try to escape. If this happens, do not slap it with your hands, as it may burn your skin. Instead, try this technique. Drop on the floor and roll over on your back to extinguish the fire.
7.   Crawl
If the smoke has spread in your home, do not run standing up as the harmful fumes may enter your nose, eyes and lungs. After all, hot air always rises! This may cause suffocation and cause you to pass out, which may pose a risk to your life until help arrives. During a fire, you should always crawl and remain close to the ground to stay away from the high temperature and thick smoke
8.   Cover Your Nose
It is always advised to cover your nose with a damp towel during a fire. This will prevent the smoke from getting into your lungs. Smoke fumes can be injurious to your health, so try to mitigate the risk as much as you can.
9.   Close Doors
As you escape a room during a fire, always close the door behind you. You should do this only if you're sure no family member or pet is left behind. Closing doors helps contain the fire from spreading and causing more damage. It basically helps relegate the fire in one spot.
10.  Stay Outside
Even if you're tempted to go inside and see what's going on, do not enter your home during a fire until professionals tell you it is safe to do so. While the fire may have been put out, smoke can linger and that is also very harmful for human health.
911 Restoration of Redding
If you live in a location that is prone to fires, you should have a home restoration company in mind. If you encounter fire damage, call 911 Restoration of Redding.
911 Restoration is touted as the best water damage company in Redding and it will help restore your house to its original condition. They will ensure a complete extraction and dehumidifying process to get rid of any lingering moisture from the fire, successfully preventing mold growth as well.