Things to Look For in a Sewage Removal Service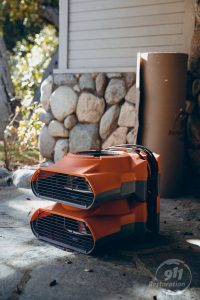 Most property owners think that they'll never need assistance from sewage removal services until a disaster beyond their control arrives. Clogged pipes, overgrown tree roots, floods, and other causes of a sewage backup can not only lead to personal property damage but also significant health complications due to bacteria and germs buildup. Therefore, sewage removal is not a DIY task and requires trained professionals with proper pumping and cleaning equipment to repair and mitigate the health and damage risks effectively.
However, not all home restoration services are the same in terms of cost, quality of repairs, and customer service among other factors. Given the wide range of options available in Redding, California, we'll share the eight most important things to look for in a sewage removal service.
Understanding Septic Tank Cleaning and Pumping
Sewage removal often involves pumping and septic tank cleaning. Unfortunately, most property owners think they're the same processes and end up hiring the wrong service. Fortunately, home restoration services like 911 Restoration of Redding offer both services and more. Septic tank cleaning involves the complete removal of solid and liquid waste from a septic tank, whereas pumping involves using pumps to expel mostly liquid waste and some debris from the tank.
8 Things to Look for in a Sewage Removal Service
1.    License
The first thing you should check when choosing a sewage removal service is their license, which is a prerequisite for most home restoration companies to operate legally in the US. Having a license means that they're credible and more likely to provide better overall service compared to non-licensed companies. You can check the company's website or call their support team to find out.
2.    Insurance
Along with the license, you should also check the company's insurance possible to ensure that they're capable of covering any further damage to your home or septic tank during the repair process. Secondly, you should also check if the sewage removal team is insured to ensure you're not responsible for any injuries caused during the cleanup.
3.    Experience
The last thing you need is to have several amateurs running around your property not knowing how to carry out the repair job. When choosing a sewage removal company, make sure to check the experience of the cleaning team assigned to your home. Experienced teams work more efficiently and finish the job in no time. They are trained professionals who know how to handle different equipment and job sites.
4.    Reputation
Reputation plays an essential role in deciding which company to go for, especially if you're trying to narrow down a list of great options in Redding. The smartest way to do this is by going through their businesses pages on social media to learn what others think of their company following their experiences. You could also ask for recommendations from your colleagues, friends, and family to help you choose the best service near you.
5.    Capacity
Every home or commercial property is different. More importantly, sewage removal usually has a specified amount of waste they can handle efficiently. So make sure they have enough cleaners, trucks, and cleaning equipment to effectively carry out the cleaning and repair job.
6.    Quality of Service
It's not irrational to expect high-quality service even if you're paying a lower price than the market average. Sewage removal is an unpleasant job on its own. The last thing you need is having to deal with unprofessional cleaners or poor quality of service. Deal with them as you would any other service by evaluating their customer support, promptness, quality of cleaning, and time spent on the job.
7.    Cost
The home restoration industry is a competitive market so you should expect similar prices from most providers. In most cases, a cheaper service might not be able to offer you high-quality service in terms of equipment, time, or results. Hence, you should take your time to compare the price quotes from different companies before choosing one.
8.    Reliability
You need a reliable partner that not only does a decent cleanup job on your property but also strictly adheres to the timeline and environmental policies in your areas regarding disposal. The service you hire should not only be punctual but also work at the desired pace to ensure homeowners can return to their regular activities.
Renowned Sewage Removal Services from 911 Restoration of Redding
Clogged drains, overgrown tree roots, and broken pipes are all a nuisance that can wreak havoc on your home or commercial property and often lead to sewage backup. Learning how to choose a sewage removal service can help you narrow down your search and opt for the company in terms of cost, equipment, and all the factors mentioned above.
The team at 911 Restoration of Redding will give you a complete evaluation of the condition of your sewage system and offer the best repair solutions. Our team is equipped with the latest cleaning equipment, disinfectants, and pumps to properly repair any damage while keeping your pocket damage liability at a minimum.
Feel free to call us for more information regarding our home restoration services.